If you are Dr. Javaid Malik and want to edit your profile with www.physician-surgeon.net then please Click Here and use your listed email as user name and password emailed to you. If you have forgotten your password then Click Here to get your password. In case your email is not listed with us yet then please Click Here to update your email ID and you will be required to SMS/Text (SMS only no calls, Please) Doctor's ID alloted to you by www.physician-surgeon.net on (Phone Number will soon be provided) using your phone number listed with us for validation. This validation may take 3-4 days.
Dr. Javaid Malik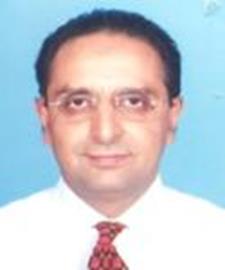 Doctor's ID : PS-549
Specialty : Rheumatologist
FRCP
Phone
Address : Consultant Rheumatologist And Medical Specialist, 
Rahmat Noor Clinic And Arthritis Research Centre, 
Westrige 1, Peshawar Road, 
Rawalpindi 
Email : jmmalik23@yahoo.com

On 2017-10-10 Abdul Jabar wrote :
I want to check a patient of joined pain and bodyache today what is the timing and fee ?
---
On 2017-10-01 Najam ud din wrote :
Sir I came to know through Dr.asim rehman I belong from pesh...I need ur appointment no. For my mother.... Regard... 03335857179
---
On 2017-03-12 AKBAR ZAMAN wrote :
Previously treated 02 times. Now once again lower left spine pain from last 1-2 weeks.Appointment requested for Monday 13-03-2017. Mob 0334- 0110527
---
On 2016-12-05 Muhammad Razzaq wrote :
I came to know through Dr Javed Medical center Bhaun Chakwal that Dr Jawed Mehmood malik is the best Rheumatologist in Rawalpindi Division
---
On 2016-10-14 Osama rashid wrote :
Dear sir can u give me ur contct num or ur PA contct num for appointmnt.N which days u r sit in rawalpindi n plz also mention time derail
---
---