---

Dr. Shaheen Iqbal **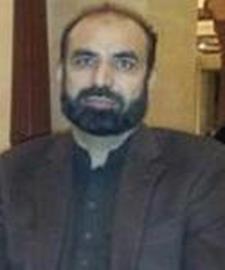 Specialty : Orthopedic Surgeons
MBBS, FCPS
Phone : 03335108537
Address : AL-IHSAN HOSPITAL
Mareer Chowk, Murree Road, Rawalpindi
(92 51- 5519759, 5515409)
Email : Not Shown

Dr. (Maj Gen) Sohail Hafeez ** Specialty : Orthopedic Surgeons
Phone : 0300-8507395
Address : C.M.H Rawalpindi
Email : Not Shown

Dr. Raiz Ahmed Specialty : Orthopedic Surgeons
Phone : 0300-8540999, 92 (51) 4411306
Address : Associate Prof Orthopaedics E-22 Said Pur Road, SatelliteTown, Rawalpindi
Email : Not Shown

Dr. M Asad Qureshi Specialty : Orthopedic Surgeons
Phone : 0300-9563865, 051-56130360
Address : CMH Hospital Rawalpindi
Email : Not Shown

Dr. Adeel Specialty : Orthopedic Surgeons
mbbs, fcps
Phone : 03225158158
Address : Asghar Mall Road
Email : Not Shown

Dr Islamuddin Specialty : Orthopedic Surgeons
MBBS, FCPS
Phone : 4415671
Address : Al-Qaim Hospital, Rawalpindi
Email : Not Shown

Dr. Brig Daud Raza Specialty : Orthopedic Surgeons
FCPS SURGERY
Phone : 0312-2344042
Address : CMH Rawalpindi
Email : Not Shown

Dr. M Zubair Javed Specialty : Orthopedic Surgeons
Phone : 0333-5106566
Address : J-912 Sher Housing Colony Near Committee Chowk, Rawalpindi
Email : Not Shown

Dr Ghiasuddin Jan Specialty : Orthopedic Surgeons
MBBS, MS, FCPS
Phone : 4456471-78
Address : Bilal Hospital, 38-A, Satellite Town, Sadiqabad Road, Rawalpindi
Email : Not Shown

Dr. Sheikh Bakhtiar Ahmed
Dr. (Lt Col) M. Suhail Amin
Comments
Please click on the link comments & detail... on a Doctor of your choice to submit your comments. Some of the latest comments are:

---
On 2019-06-16 Jamil afridi wrote for Dr. Shaheen Iqbal :
How to addmission in your hospital and how much it cost for arthoplasticity of my mothers knees?
---
On 2018-11-26 Saba Gul Ahmed wrote for Dr. Nayyar Qayyum :
Dr Nayyar Sb, please mention your consultancy fee here.
---
On 2018-06-19 Khizar Shahzad wrote for Dr. Shaheen Iqbal :
Please give me a appointment of doctor shaheen
---
On 2018-05-03 Muhammed Asif wrote for Dr. Khurram Habib :
I want apponitment...plz gave me a no
---
On 2017-09-28 Ashraf Jami wrote for Dr. (Lt Col) M. Suhail Amin :
Dear Dr, I want to see u in c/w my overstretched,swollen & painful L.H. two fingers (M & R Fingers) with two months history. I have also pain in my right knee.Would u be the right doctor for this purpose? If yes, plz allow me the apptt for today in the evening. Thanks
---
On 2017-06-02 Naeem Kamal wrote for Dr. M Zubair Javed :
Zabar Zabardast Doctor
---
On 2017-05-04 Riaz Ghafoor wrote for Dr. M Asad Qureshi :
Doctor sahab, My son age 13 years has Scoliosis deformity in the lumber spine and spine is bending towards right. need your consultancy/ appointment. Will you please help me out. Thanking You. Riaz Ghafoor. 312/337-5104097
---
On 2017-03-22 Dr. Tahir, Islamabad wrote for Dr. (Maj Gen) Sohail Hafeez :
Dear Dr. Sohail sb,AoA, My mother has problem in knee. Appointment may kindly be provided. Regards, Dr. Tahir 03335607041
---
On 2017-02-05 Aurangzeb wrote for Dr. Brig Daud Raza :
AOA Sir, Sir I want appt for checkup my knee pain, plz. Aurangzeb
---
On 2016-12-19 Muzaffar Hussain wrote for Dr. (Maj Gen) Sohail Hafeez :
DriveN soil hafeez